Spaces & Places
Campsite
Albert & Ann Deshur JCC Rainbow Day Camp's 110-acre facility in Fredonia allows children to experience and embrace the outdoors. In addition, camp provides plenty of tented areas for shade throughout the program day. Pre-planned rainy day schedules and hot day schedules take advantage of indoor space. No matter the weather, every day is a blast. This summer, our campsite will be divided into 8 unique and separate campsites. Scroll down to view our updated campsite map.
Entrance
The main entrance to camp has moved to Chortek Way, a road that runs along the southern edge of camp and further away from our primary activity spaces. Camp buses and all visitors (including parents) are directed to turn left on this newer road that intersects with Trails End Road when arriving at camp. The original road is now used only for foot traffic and golf cart rides.

Transportation
Round-trip transportation is provided from the JCC in Whitefish Bay, the Hy & Richard Smith JCC Water Park in Mequon, and a bus stop in Grafton.
Waterfront
Creating a comfortable and safe aquatics program is one of our most important goals.
POOL: The Daniel M. Soref Aquatic Center is accessible for campers of all abilities. This newly reimagined facility incorporates a shallow area, deep end, and splash pad with adjacent locker rooms.
AGAM: The Agam is a spring-fed pond that provides campers with boating and small craft experiences as well as an inflatable obstacle course and slide.
Additional Campsite Features:
Dinkin Family Activity Village for trains, Legos, dance, ceramics, woodworking, and sewing
Daniel M. Soref Education & Retreat Center (Bayit & Lodge)
Tsofim (Teen) Village
40-foot climbing tower, zip line, and archery range
Sol & Eva Dorf Assembly Area
Grandma's Storybook Garden
Moadon (Clubhouse)
Judaic Playground
Learning Kitchen
Anna & Nathan Landau & Children (Rose, Max, Belle & Shirley) Picnic Area
Marvin & Ann Margolis Family Picnic Pavilion
Amphitheater
Large, tented amphitheater
Adventure Playground
Admirals Rec Center
Educational Garden
Laser tag field
Gorens Family Youth Tennis Courts
Paley Tennis Courts
Gary Katz Sports Complex
Athletic Fields
Catherine & Nathan Wahlberg Family Nature Center
Fishing Pond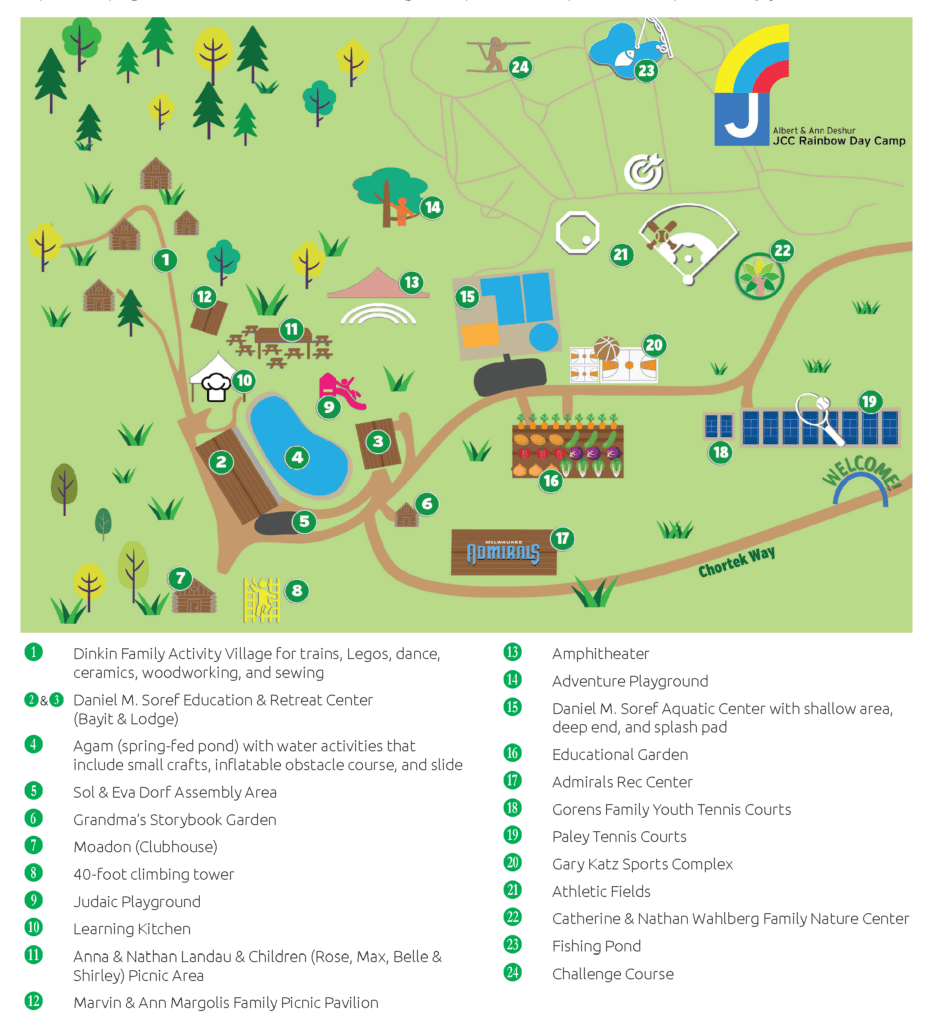 Learn more about Day Camp!